This article is part of our KAUST Innovation Design Thinking series. Each article will focus on a core step of the Design Thinking process, including: Empathize, Define, Ideate, Prototype, Testing, and Storytelling. This post focuses on the importance of the Define phase. 
So you have a great idea for a company, but are you certain that it solves the problem that your customers have? In Design Thinking we don't start with a great idea, we try to solve for what the customer really needs. Hopefully, at this point, you have met with your future customers and have a range of observations, interviews and conversations from your initial work in the Empathize stage. (If you don't, follow the link here to get started with stage one of the Design Thinking process.) You should now have a list of insights – from big picture to small details – that you can start grouping together with your team. Your next step is to analyze and map out a series of conclusions from these insights. From this you will be able to define your problem into a concise problem statement.
The Define stage, or second stage of the Design Thinking process, is often considered to be the most difficult. Without an actionable problem statement, your work will lack focus and can lead to failure in the future Ideation, Prototyping and Testing stages. Here at KAUST, we help our entrepreneurs navigate this stage through our startup accelerator programs and one-on-one support. Our current startup accelerator – TAQADAM – is the only multi-university accelerator in the Middle East. Open to all Saudi university applicants, TAQADAM is unique because it offers mentoring during the startup incubation period. Participants in the accelerator program are guided through the Design Thinking process by KAUST Innovation experts and international mentors.
1. Start by defining the right problem to solve
Begin the Design stage by mapping out your observations from the Empathize stage and synthesizing them into an organized series of conclusions. Working with your team, use post-its and customer journey maps to cluster findings and define the insights from your users.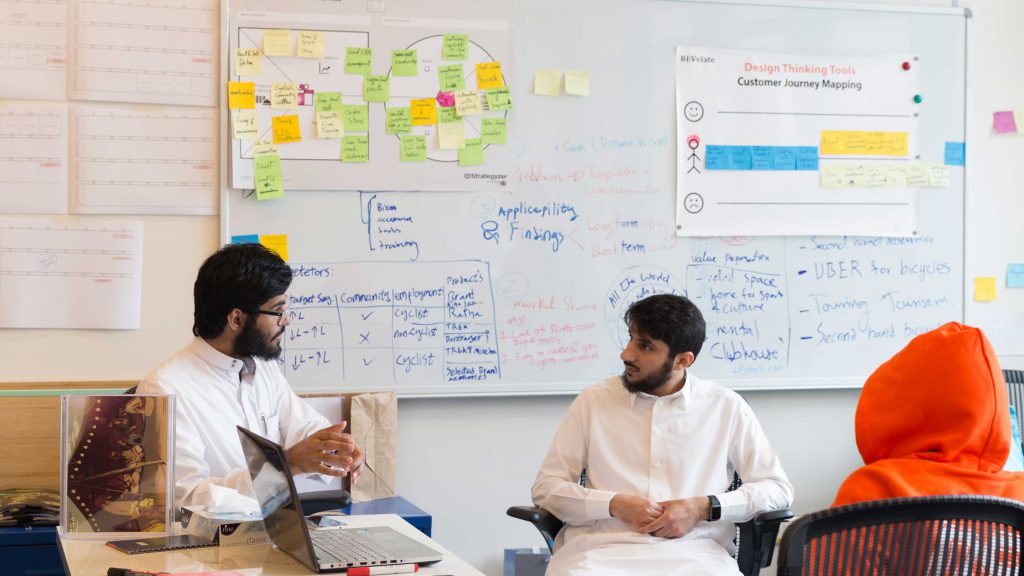 How to use an Empathy Map for analysis
A great exercise to help analyze your findings is with an Empathy map. The map consists of four quadrants that refer to what the user: Said, Did, Thought and Felt. Once you have mapped out your observations into these four quadrants you can synthesize your findings to best understand your user's specific needs.
2. Figure out your point of view and write a problem statement
Using the insights gathered from your analysis session you should now be able to create an actionable problem statement. This statement is critical because it defines your point-of-view (POV), defined by Stanford's d. School as, "the explicit expression of the problem you are striving to address." Remember that your problem should be human-centered and framed to specific users. The Interaction Design Foundation offers a great example of this:
"Instead of defining the problem as your own wish or a need of the company such as, 'We need to increase our food-product market share among young teenage girls by 5%,' a much better way to define the problem would be, 'Teenage girls need to eat nutritious food in order to thrive, be healthy and grow.'"
Focus the definition about the people you are helping and avoid statements about technology, product specifications and finances. Remember to be broad enough to allow creative freedom but narrow enough in scope to be manageable. This helpful formula articulates your POV by combining users, needs and insights:
User… (descriptive) needs…(verb) because insight…(compelling).
3. Start understanding how and why you will answer your problem
Once you have defined your problem you are ready to start asking questions that will frame the next Ideation stage. These questions turn your insights and into actionable questions. Begin by looking at the insight statements that you've generated and adding "How might we" at the beginning. Use this worksheet from Stanford d School as a starting point for this activity.
---
Are you a Saudi university student, postdoc, staff, researcher or faculty that is ready to take their idea into a startup business? If yes, then you're eligible to apply for our part-time accelerator program TAQADAM in partnership with SABB bank.
If you are a Saudi entrepreneur and are ready to dedicate yourself full-time to your venture, then you are eligible to apply to the 9/10ths accelerator program in partnership with TAKAMOL.
---
This series is part of our focus on Design Thinking, find all the articles in the series below:
Part 1: Why your company needs Design Thinking!
Part 2 – Empathize: How to know what your customers really want
Part 3 – Define: Can you define your startup in one sentence?
Part 4 – Ideate: What makes a good startup idea?
Paty 5 – Prototype: Why and how to use prototypes