Work with us
Apply the best minds to your research and development needs.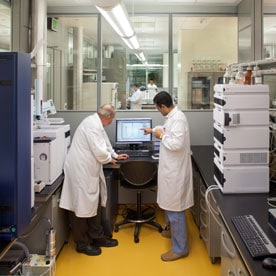 One of KAUST's key advantages is that it provides partners with opportunities to conduct experimental research in an empowering environment with exceptional facilities, labs, equipment and support. The University's ability to sustain these exceptional facilities over the long term is an important competitive advantage over other global institutions.
KAUST's world class faculty, researchers and students help companies solve their most challenging problems. The cross-disciplinary research environment provides industry with new perspectives and leads to innovative and competitive solutions.
The University's industry partners have access to KAUST's state-of-the-art Core Labs which host some of the best-equipped research facilities in the world.