Fuel your global competitiveness
Top-quality education and world-leading research define us, but they are only part of our vision. KAUST is also an institution of enterprise and a gateway for industry looking to establish a foothold in Saudi Arabia.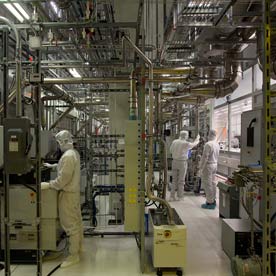 We believe an innovation-focused mindset benefits everyone. Whether it is through sponsored research agreements or utilizing our laboratories, office spaces, or pilot testing and scale-up facilities, KAUST can help businesses problem solve and accomplish their goals for growth in the region.
We can connect you with the departments and contacts that interest you, either within KAUST or elsewhere in the Kingdom.  These collaborations will help contribute to the economic diversification of Saudi Arabia and its transformation to a knowledge-based economy.
Some of what KAUST offers to industry: