FalconViz, one of the University's homegrown startups, has recently been included in the prestigious Forbes Middle East "Top 100 Startups In The Arab World 2017" list.
The startup, which focuses on 3-D aerial surveying and mapping using unmanned aerial systems (UAS), is the brainchild of four co-founders: Anas Dahlawi, FalconViz general manager and KAUST Visual Computing Center (VCC) industrial officer; Neil Smith, FalconViz chief executive officer and VCC research scientist; Luca Passone, FalconViz chief technology officer and a KAUST Ph.D. candidate in earth science and engineering; and Mohamed Shalaby, FalconViz vice president of business development and a VCC senior research scientist.
"Being there as a successful startup in the Middle East when only six Saudi companies were selected, and to be maybe the only startup that is technology-based—it is really nice to have a technology that has come from KAUST—a technology that has been patented, prototyped and has been applied to the real world," Shalaby said.
"For me, it is an achievement to be on the Forbes list, regardless of whether we are listed at number 86 or number 8 or even the first position—we have been recognized," he added.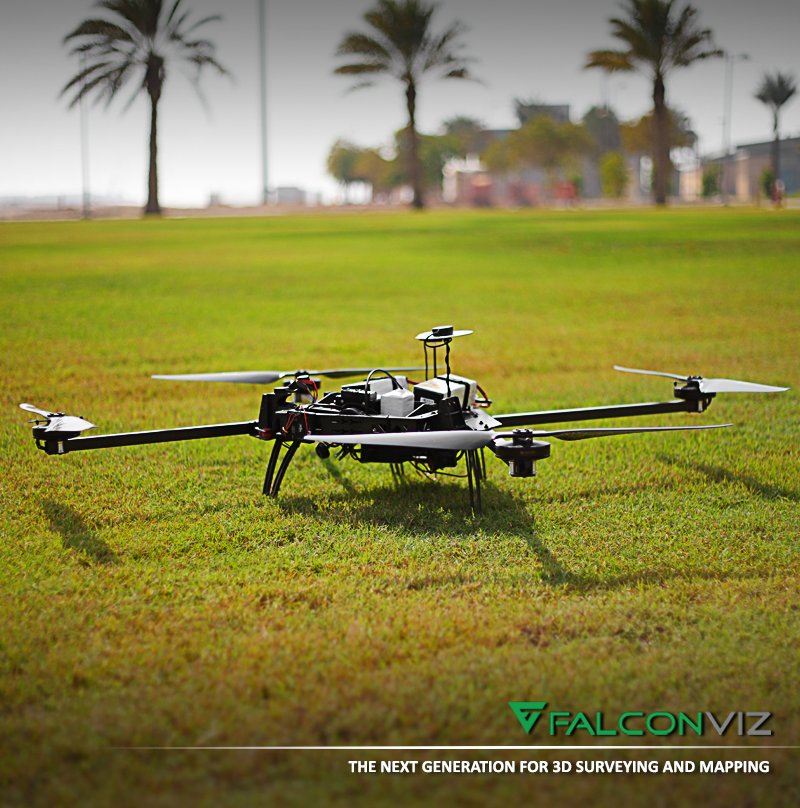 FalconViz's Inspiration
FalconViz helps provide life-saving solutions through the development of high-quality aerial surveying technology. Their rapid response unmanned aerial vehicle (UAV) drones can scan a full-scale 3-D map of a 4 kilometer-square area that has been struck by disaster in 30 minutes. The data acquired provides a rich pipeline of images that are studied to reveal optimal ways of converting the data into a 3-D model.
Smith noted that the major inspiration behind the creation of FalconViz stemmed from how surveying work was carried out for hundreds of years before the device's creation.
"The way you once did 3-D surveying and mapping and the capture of data was done by a single person using a single instrument on the ground, and it took hours and hours to capture anything of detail," he said.
"When we developed the technology to place a camera on the drone, we were able to capture massive areas in a fraction of the time. This opened new avenues for us to do construction monitoring, and we could capture areas that never could possibly be captured before in other methods. One of the major contributions or technological advances is to be able to capture and document the world with higher accuracy and a greater capacity than ever before," he added.
Creating an Attractive Proposition
"Prior to FalconViz, I was flying drones for fun—we're talking when the word 'drone' was new and people didn't really know what it meant," Passone said.
"You put a camera on a drone and it was kind of a crazy idea, and this was my hobby. The start of everything was when Neil and I interacted and he told me he had a method for combining imagery into 3-D models. He had used this in archaeological sites and for his research, and we thought about doing this here on the campus mosque," he noted.
It was around this time that FalconViz began to attract possible clients, collaborators and investors from outside the University. The Jeddah Municipality contacted FalconViz in 2014 to survey 250,000 square meters of Al-Balad in support of the city's UNESCO World Heritage Site application.
The images gathered were run through proprietary imaging software, which transformed them into highly detailed 3-D maps, plans and models. Thanks to the maps provided by the FalconViz drone, city planners and historians used the renderings as part of ongoing preservation efforts in the area.
To date, FalconViz has completed projects for clients such as the Aecom, Saudi Aramco and the Dow Chemical Company, among others. FalconViz also provides services for a variety of purposes, including monitoring construction sites, performing mining assessments and urban planning.
Future Plans and Successes
Shalaby feels that "the sky's the limit" for the future progress of FalconViz. He also feels that the current team, which has grown from the four original members to 18, has great potential to expand outside of its current client base in the Middle East.
"The plan for sure is scaling up—we managed to scale up this team from the original four people to 18 for the moment, but it is not about the number, it is about the quality," Shalaby said. "Having a Saudi company of this size going to discuss possible projects outside of the region is a big thing. Instead of importing technology, we are exporting technology," he added.
Passone recognizes that one of the most important goals that the FalconViz team promotes is the need to support local employment within the Kingdom.
"Right now we are employing close to 20 people and most of them are Saudis. This probably is one of the greatest achievements of the company that we have managed to create so much value that we are able to already start offering jobs," Passone said.
"It is exciting for me that we've been able to go from an idea that started at KAUST to a successful commercial company. I think that it is a success not just for us alone, but for the entire University—to be one of the first stars of the startups of KAUST really shows what's possible from the original vision of the University," Smith said.
"Our mission is greater than just the joint technology or just the scanning—it is to provide a new way to be able to document the world that benefits the cities and benefits the country in ways that weren't possible before. Our vision is to see that not only here in Saudi Arabia but throughout the world," Smith concluded.
---