On September 13, 2018, thirteen startup finalists took the stage to pitch for follow-on funding at the 2018 final TAQADAM Accelerator showcase. After 8 months of intensive acceleration at King Abdullah University for Science and Technology (KAUST), and in competition with 24 startups, 6 winners have won SAR 375,000 ($100,000 USD) each. A People's Choice prize was awarded for SAR 187,500 and a FinTech track award for SAR 37,500.
The finalists were judged on their market viability, scalability, and profitability by a panel of high profile judges including, Hashim Dairy, Division Head of Corporate Banking at SABB, His Excellency Dr. Nabeel Koshak, Founder of Athaal and former founding Dean of MBSC, Dr. Kevin Cullen, Vice President of Innovation at KAUST, Dr. Mohammed Fitaihi, Chairmal of Oqal, and Salem Washeely, Managing Director of Elm.
The winners of the 2018 TAQDAM Showcase are:
Winner & People's Choice Award: Wayakit
An instant laundry spray that removes stains and smells on garments using patented biotechnology to degrade the molecules causing unpleasant odors.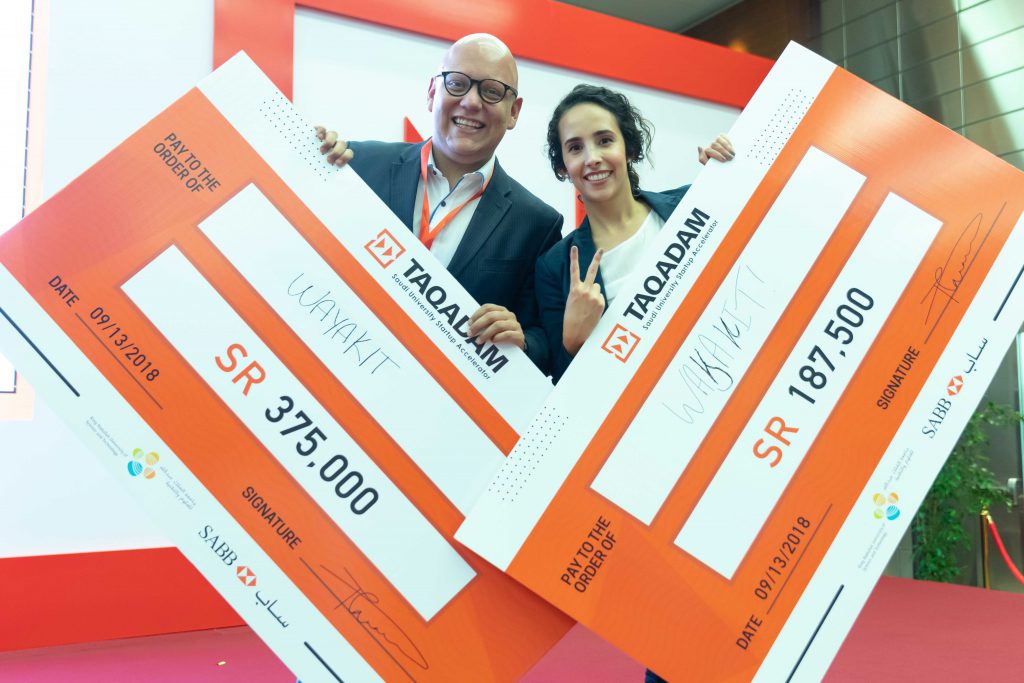 Watch the Wayakit pitch: https://youtu.be/M9z6TFMl_AU
---
Winner: Oaesis
Laser-based energy efficient lighting systems for indoor farming.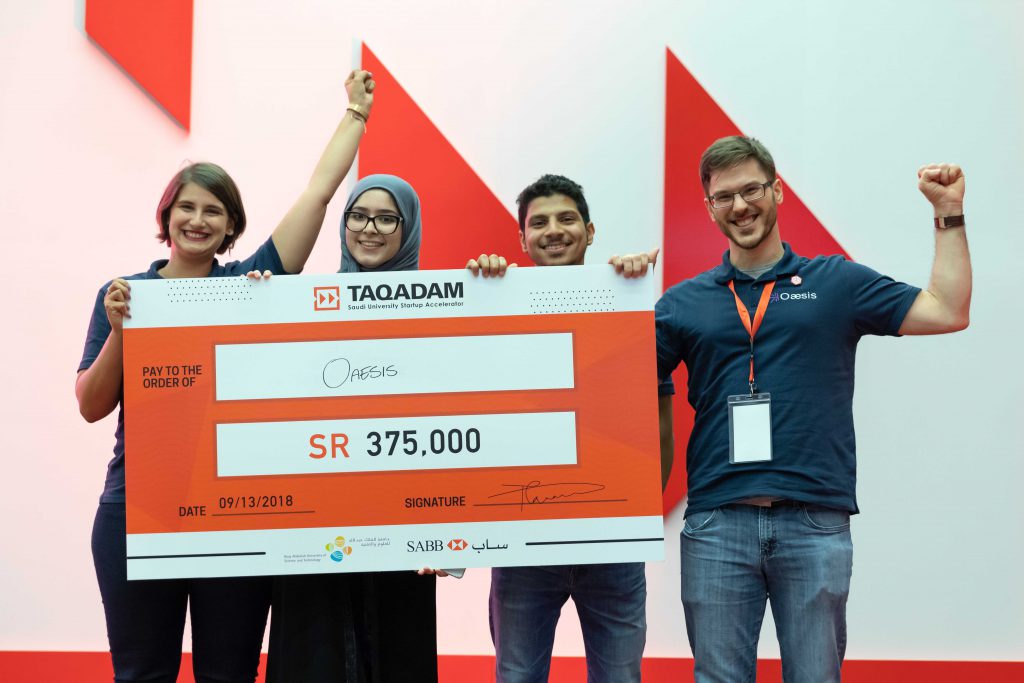 Watch the Oeasis pitch: https://youtu.be/WxGsltT20oA
---
Winner: Edama Organic Solutions

Converting organic waste into soil conditioners adapted to desert climates for farmers and gardeners.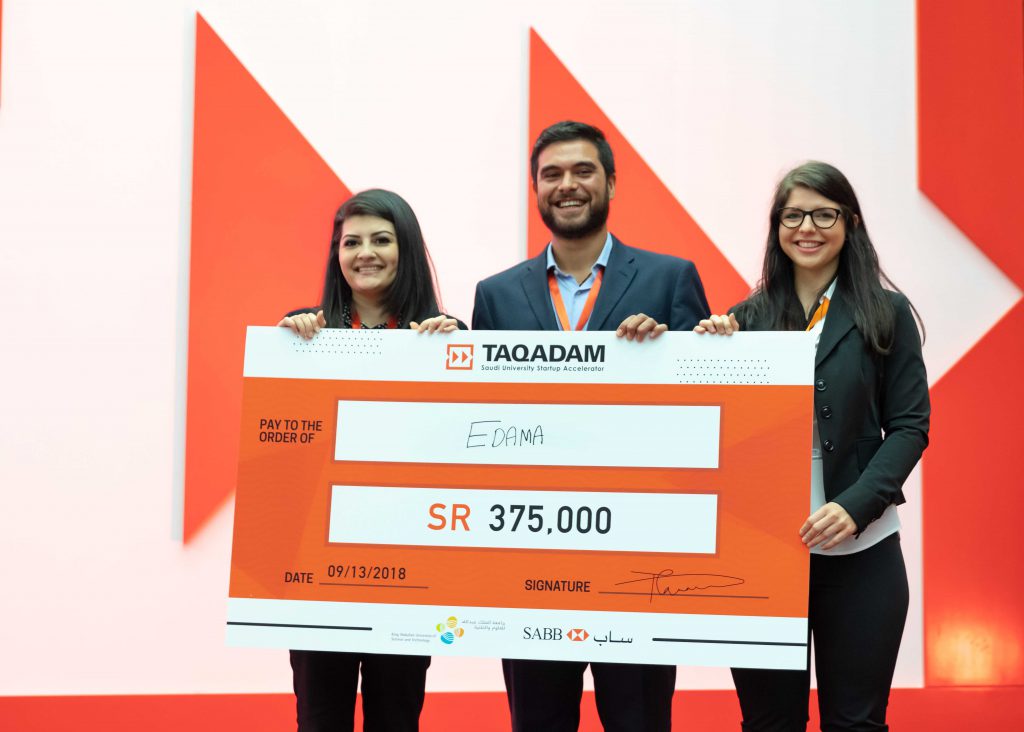 Watch the Edama Organic Solutions pitch: https://youtu.be/AzOmHfdJUcA
---
Winner: Iyris
Creating smart glass transparent solar cells integrated into windows.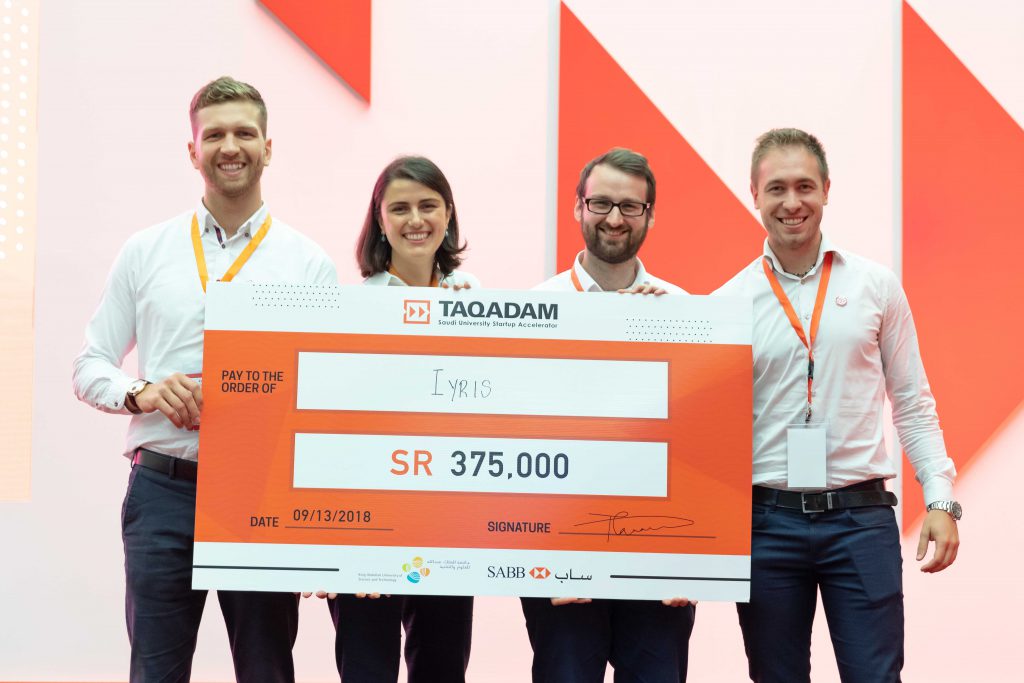 Watch the iyris pitch: https://youtu.be/H3LZWxIQFCo
---
Winner: Steadia
Converting utility meters into smart devices that track electricity consumption by household.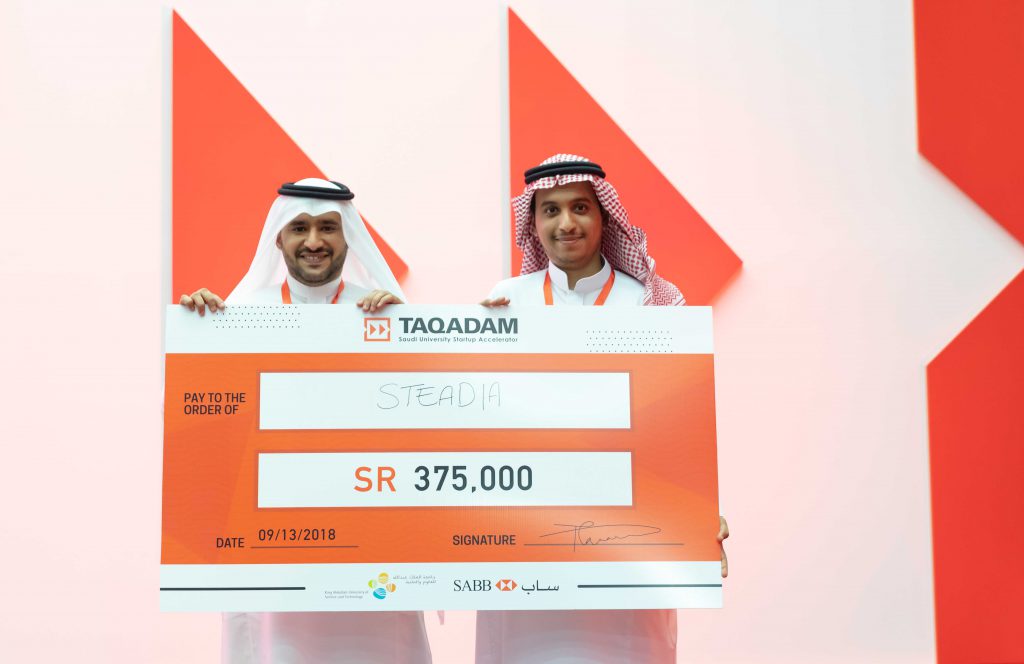 Watch the Steadia pitch: https://youtu.be/PzXRCj_6LqM
---
Winner: Vythos
Enabling companies, researchers and governments to monitor seafloor activities.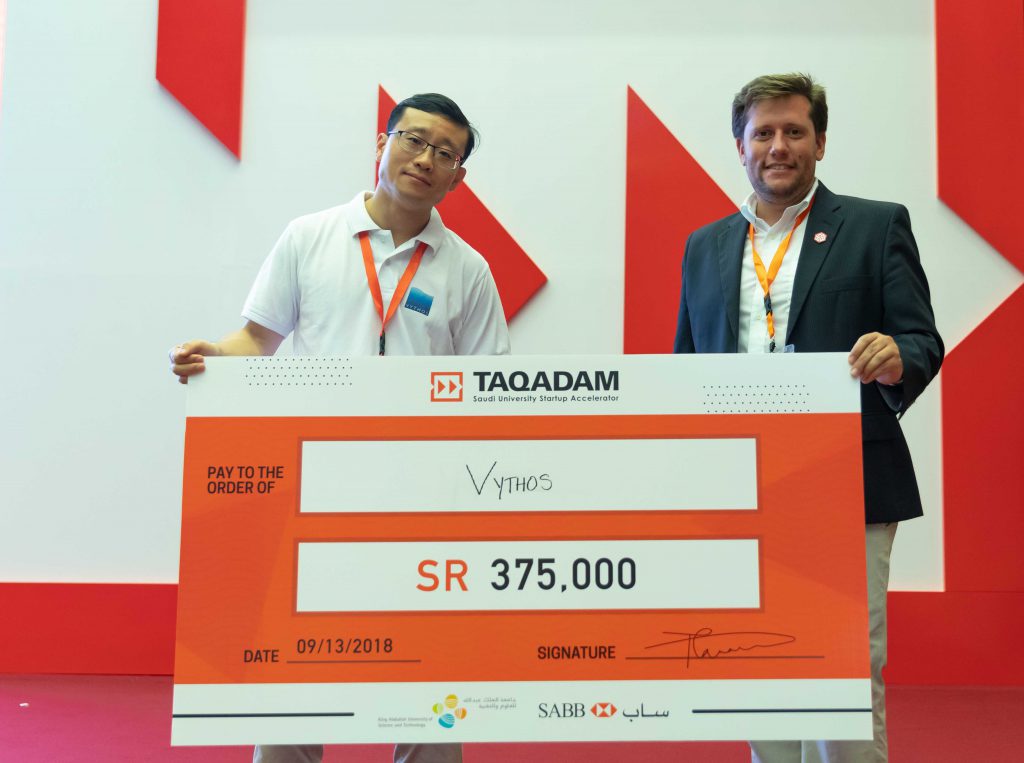 Watch the Vythos: https://youtu.be/z3-dYhUjBXY
---
FinTech Track Winner: Waqood
E-wallet application and loyalty program for gas payments.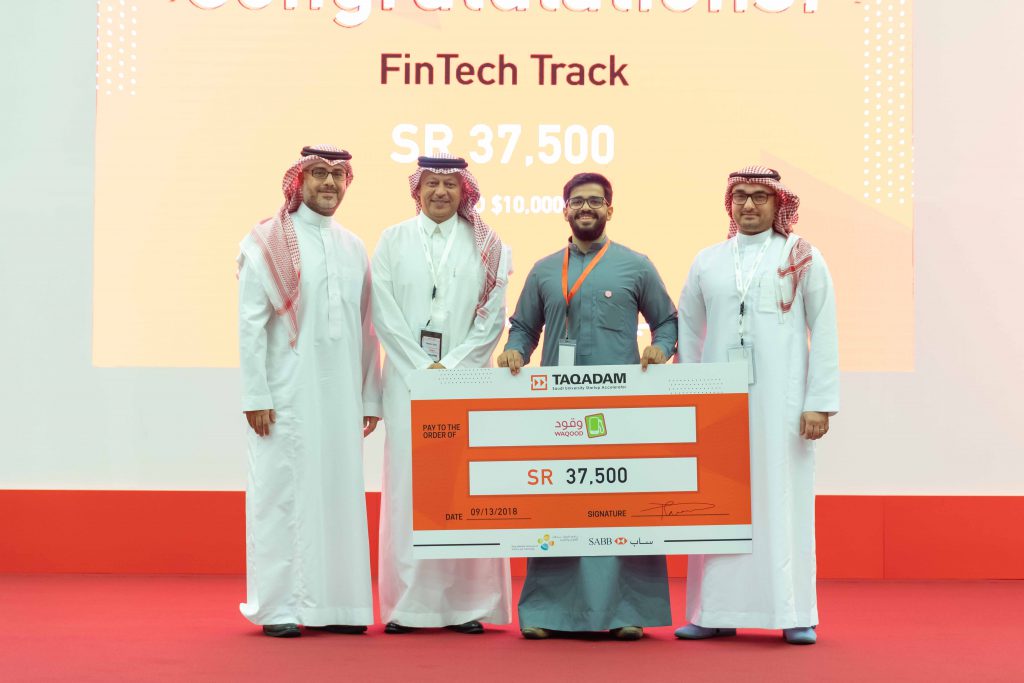 ---
About the TAQADAM Startup Accelerator
Over the last year, 27 startups from 11 universities throughout the Kingdom have been working to launch their companies as part of the TAQADAM Startup Accelerator. Each team received SR 75,000 in grant funding and completed an intensive acceleration process that included training in ideation, marketing, fundraising, and product design. A partnership between SABB and KAUST, TAQADAM aims to equip university students, faculty and recent grads with the tools needed to launch a technology-based company.
Launched in 2016, TAQADAM has successfully graduated 49 startups and awarded over SR 9,000,000 in grant-based seed funding. The second cohort included 80 entrepreneurs with 24 female founders.
Applications for TAQADAM Cohort 4 are now open.
---
More about the TAQADAM Startup Accelerator
Meet the TAQADAM Cohort 2 Finalists
Meet the TAQADAM Cohort 2 Judges 
TAQADAM University Accelerator Energizes Saudi University Startups