The UBI Index has ranked KAUST Entrepreneurship Center as a Top Challenger for University Incubator Programs! KAUST has been recognized from among 259 finalists in 53 countries selected from 1,370 submissions.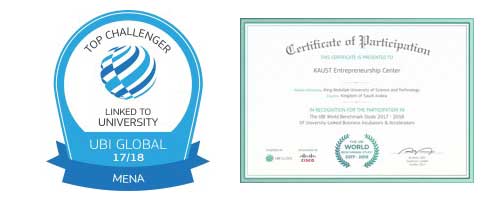 UBI Global is a Stockholm-based data and advisory firm specializing in mapping and highlighting the world of business incubation. Released on February 22, 2018 at the World Incubation Summit, UBI Global CEO and Founder, Ali Amin, explained, "By highlighting the impact and performance of these programs, we are not only helping incubators and accelerators to become more efficient, but we are also assisting government officials in developing their respective innovation ecosystems." Download and read the full report here.
As a mentor, entrepreneur, and Saudi, I was proud to attend the World Incubator Summit on behalf of KAUST Entrepreneurship Center. KAUST had previously been recognized in 2016 with a High Impact Award and this year's win shows the strength and caliber of the programs that we run.
In the past two years, we have launched two innovative accelerator programs:
TAQADAM is our flagship accelerator program and is the only multi-university accelerator program in the Middle East. To date, we have had over 900 applicants and have graduated 25 startups. The program is made possible with the generous support of our partner SABB Bank.
9/10ths Startup Accelerator is delivered in partnership with TAKAMOL and is open to all entrepreneurs in Saudi. This program launches 3 cohorts per year in Riyadh, Jeddah, and Saudi Arabia's Eastern Province.
The theme of the World Incubation Summit for this year was "Catalyzing Impactful Collaborations." As an Entrepreneurship Center and as a university, our mission at KAUST is to encourage collaboration and facilitate innovation within Saudi Arabia. With all of our entrepreneurship programs, our partners have been at the core of our impressive growth and are a testament to the confidence they have in our programs. These partners also form an important part of the foundation for the hundreds of entrepreneurs that have come through our programs. We believe our partnerships between academia and industry serve as a key component to creating impact through knowledge exchange. One example is the partnership between Saudi Electric Company (SEC) and KAUST to solve many of the technical challenges in the power industry.
It was with great honor that I participated in a panel discussion "From Contact to Contract" with one of our earliest partners, SEC. Over the course of our partnership with SEC, we have launched a corporate innovation program that has resulted in innovative, patented, and market-ready technologies. During the panel, Khalid Al Dossary, the Executive Manager of Innovation Energy Incubation, said, "We look forward to expanding our collaboration with KAUST to identify further innovations that SEC can deploy by capitalizing on the innovations that come from collaborations between KAUST students and SEC employees."
Read more about KAUST and UBI Global
KAUST Entrepreneurship Center Receives High Impact Award from UBI Global