Launching a startup can be tough and many aspiring entrepreneurs have questions about where to start. To shed some light on the startup journey, we're sharing stories and insights from some of our TAQADAM Startup Accelerator founders and program mentors. If you're interested in applying, click here to learn more about the program.
Choosing the right gift for special occasions, such as weddings, birthdays and baby showers, is not always an easy task. Here in Saudi Arabia, it's customary to give a baby gift – with many gift-givers relying on outdated in-store registries that result in wrong or duplicate gift purchases. Hadiya Registry, a startup launched by Moudi Algashyan and Demah Banajah, wants to modernize and optimize the way we buy and receive gifts.
The One-Stop-Shop for Special Occasions
The idea for Hadiya Registry came about in 2016 when Algashyan lived in Canada. She saw how friends and family used gift registries to ensure that their loved ones received the right gifts for special occasions. When Algashyan returned to Saudi Arabia, however, she found that local gift registry services still relied on in-store visits and hand-written records. This system often meant there were misunderstandings as to which gift had been requested, and sometimes the same gift would be bought twice.
Algashyan had herself received numerous gifts that she didn't have any use for when her daughter Maya was born – at one point receiving multiple large baby items like strollers and car seats. So she decided to ask around to see if others had the same problem. After several surveys and focus groups, it became clear that it was a widespread issue. Algashyan eyed a business opportunity: what if there was a one-stop-shop where gift receivers could create a wish list online and share it with friends and family who could then order the gifts directly from the same place?
The concept of Hadiya Registry is simple: you go online and choose what you want to receive as gifts and then share the list with your friends and family. If you can't find the item you want on the website, then you can request the product by uploading an image from the internet and Hadiya Registry will source it. That eliminates the need for multiple shops and platforms.
Hadiya Registry's modern approach and the unique selling point of being a one-stop-shop for gift registries already puts them head and shoulders above their competition but Algashyan and Banajah have bigger plans.
Hadiya's TAQADAM Accelerator Experience
The co-founders entered the six-month TAQADAM Startup Accelerator in 2019 and were able to scale their startup with the program's access to training, funding and networks. Once accepted, the team received 75,000 SR in zero-equity grant funding. E-commerce and marketing experts from KAUST were also available to advise Algashyan and Banajah on how to redevelop their website and promote it to the right audiences.
"It was honestly really, really wonderful," Algashyan says. "Having met with a lot of amazing mentors they held our hand through every step."
The first thing that needed attention was the central hub of the business: the website itself. The KAUST experts didn't sugarcoat their criticism of the previous site, but their constructive feedback resulted in the modern and user-friendly site Hadiya Registry uses today.
"I really needed to develop a new website," Algashyan says. "We sat down with the tech mentors who told us that the programming was really outdated, and that we can use a lot of new features that are out there on the market. Basically, we had to redevelop the whole thing."
Algashyan goes on to explain that she and Banajah also received help in other areas of their business: "We received financial guidance and support on everything from testing and retesting the market. It was really amazing."
The co-founders ended the program by pitching their business to 35 investors and an audience of 1,500 spectators. Although they did not win, the experience helped them grow their business and seek out new customer market segments.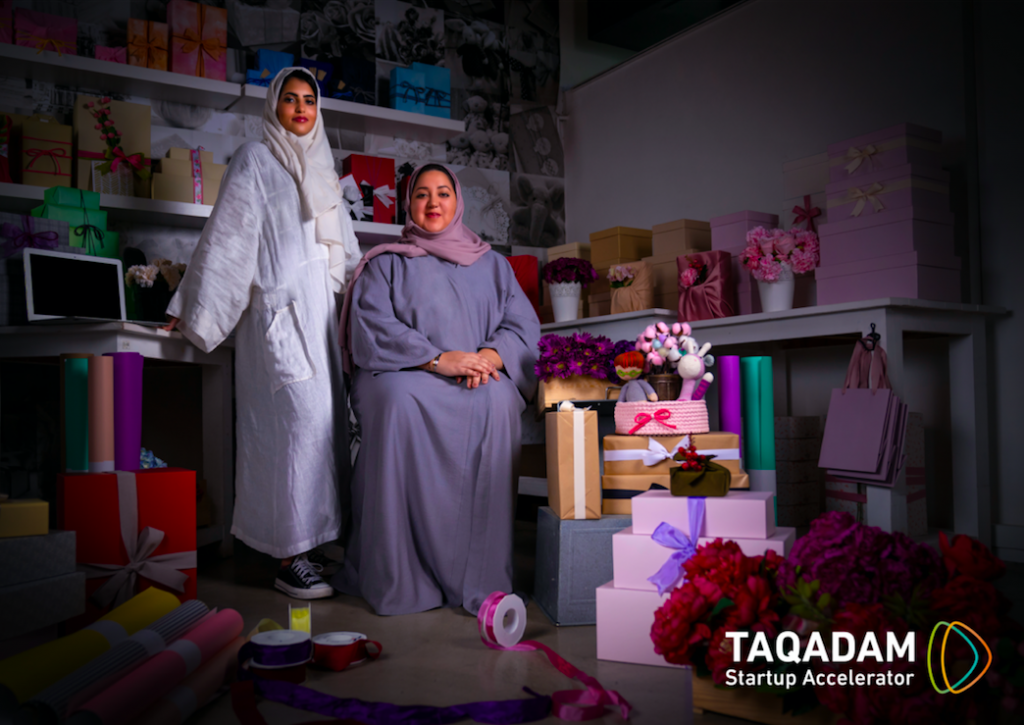 What the Future Looks Like for Hadiya Registry
The startup has maintained its momentum since graduating from the TAQADAM Accelerator last year. The web development work is still ongoing but with renewed focus and professional assistance.
---
Learn about TAQADAM Startup Accelerator Program
Discover the KAUST Research and Technology Park
Apply for venture funding from the KAUST Innovation Fund