Launching a startup can be tough and many aspiring entrepreneurs have questions about where to start. To shed some light on the startup journey, we're sharing stories and insights from some of our TAQADAM Startup Accelerator founders and program mentors. If you're interested in applying, click here to learn more about the program.
Date farming is a huge industry in Saudi Arabia. Unfortunately, 40% of each season's yield is lost due to palm tree infections because the farmers don't have an efficient system to help detect and prevent them.
Ghallah, a new startup founded by Duaa Zeyad and Abeer Alharbi, plans to supply the farmers with a system that will not only help farmers optimize their work processes but also increase their yield and revenue.
How Ghallah Can Maximize Saudi Date Farm Yield
"Ghallah is a management system for date palm farms that helps farm owners enhance their date production by regulating the whole process to maintain each palm tree's health," Zeyad explains. "The Ghallah solution uses data analysis to provide the farm owners with a guide and uses image processing to detect palm tree infections early."
Zeyad is the CEO and co-founder of Ghallah, and is an architectural engineer graduate from the University of Prince Mugrin with a minor in entrepreneurship. She met the forensic and cybersecurity student Abeer Alharbi while taking her entrepreneurship minor, and the two decided to work together on a way to use palm tree waste for architectural material.
"We wanted to create a new venture that combined my palm tree research with Zeyad's engineering background," Alharbi describes. "We thought we could do something industrial with palm waste."
But when Zeyad and Alharbi visited the farms, they discovered that the farm owners didn't care much about their palm tree waste. Instead, they had a very different problem which had a much bigger impact on their businesses: increasing the date crops with the minimum costs.
"The farmworkers don't have the experience to properly detect palm tree infections and the farm owners aren't there to do it themselves because most of them live in a different city," Zeyad says.
That means there is no one around with the knowledge of how to detect infections early and no technology to help them either. So Zeyad and Alharbi decided to interview hundreds of farm owners to see how widespread the problem was — and it was everywhere. The co-founders discovered that each year, 40% of all date production in Saudi Arabia is lost due to palm tree infections and a lack of detection mechanism.
"It's possible to detect infections with the naked eye but the farmworkers don't have the required experience, which means the farm owners need to hire an expert for a few weeks each season," Zeyad explains. "The problem is they can't hire anyone for a few weeks only but need to hire them for the whole year — when the season is only three or four months."
Currently, farm owners would need to pay approximately 60,000 SR to hire a palm tree infection expert for a whole year. With Ghallah, they're paying five riyals per palm tree.
"It's less than one percent of the minimum net revenue they earn per palm tree so we're saving them huge amounts of money," Zeyad says.
Ghallah does have some local competitors but these only specialize in a very narrow range of infections and use unregulated processes that can also lead to smaller crop yields.
"There's 25% loss of yield due to the inexperience of the farmworkers and 15% lost due to unregulated processes," Zeyad explains.
The existing competitors are using drones or sensors to detect palm tree infections. However, most of the farm owners refuse to use their services because they're too expensive and complicated to use.
"Our solution is a system-as-a-service management and monitoring system for date palms," Zeyad says. "We send out an agricultural expert to help the farm owners register each palm tree with a unique QR code which is linked to a health journal. After the QR code is registered, it will tell the farmer exactly what to do and the right time to do it."
Ghallah's system also uses image processing to keep track of the palm trees. The farm owners can manage and monitor the whole process, including the status of the palm trees and workers' efficiency. The solution also enables farm owners to accurately predict how big the date yield will be for any given season.
Ghallah's TAQADAM Experience
"We entered TAQADAM as an idea and we graduated with a real product," Zeyad says. "It's currently a beta version and we're launching later in 2020."
"TAQADAM has done a lot for us," she continues. "They provided the training, the mentors, and everything else they could to help us improve. They've been with us every step of the way and they were very supportive."
Zeyad goes on to explain that the program was not just about the training and mentors. Rather, TAQADAM provided a unique environment that is impossible to find anywhere else.
"We got to know very bright-minded entrepreneurs and scientists. They gave us focus and helped with the financial, scientific, and technical aspects of the business," she says. "They helped us build what we are now, they helped us build Ghallah. Without TAQADAM I don't think we could've done this."
During the program, Ghallah received interest from eight interested investors who said they would be willing to invest once they launch.
"TAQADAM was a golden opportunity to be exposed to these investors," Zeyad emphasizes. "Whenever we participate in any entrepreneurial competition, we can find some of the judges already know us because they were part of the judging panel during the pitch to investors at TAQADAM."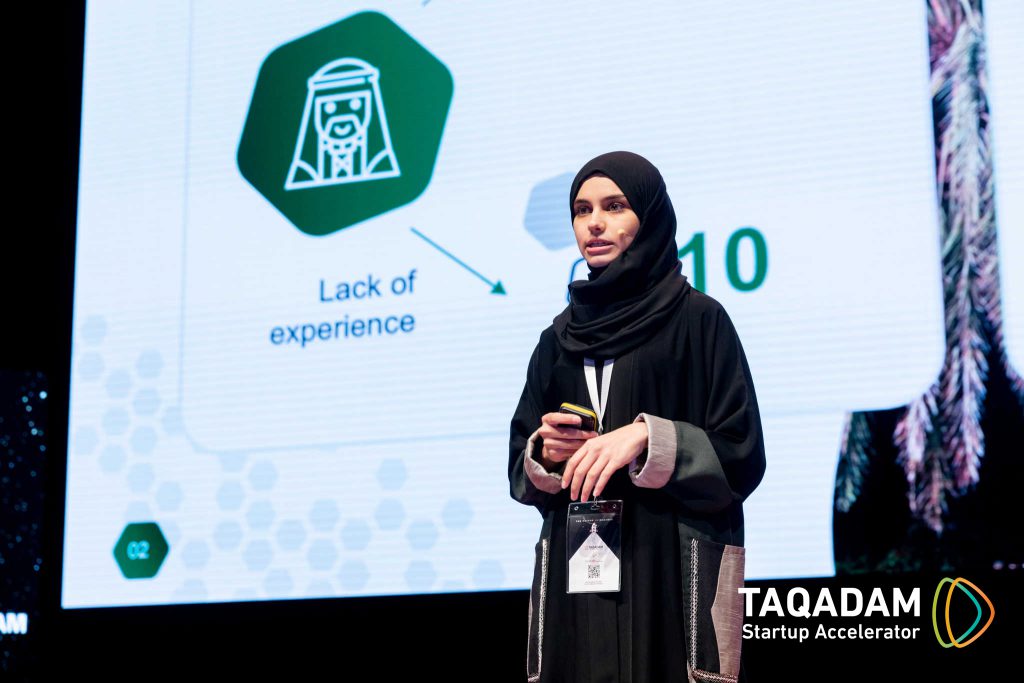 What the Future Looks Like for Ghallah
Since Zeyad and Alharbi graduated from TAQADAM, the team has entered several entrepreneurial competitions where they've done very well.
One of these was the Arab Entrepreneurship Rally in Bahrain where Ghallah represented Saudi Arabia and won third place. And as the startup continues to pick up steam, the official launch is drawing closer and closer.
"We have launched the beta version and are using it in some farms that are helping us run a pilot test," Zeyad says. "When we launch, we expect to have access to more than 750 potential customers."
Ghallah is now officially accredited, which has inspired a lot of trust and confidence in their business.
"One of the factors that helped us gain that trust was being graduates of the TAQADAM program," Zeyad explains.
As for the future, Ghallah will expand to other GCC countries, such as UAE, Oman, and Bahrain by the end of 2021.
---
Learn about TAQADAM Startup Accelerator Program
Discover the KAUST Research and Technology Park
Apply for venture funding from the KAUST Innovation Fund