Launching a startup can be tough and many aspiring entrepreneurs have questions about where to start. To shed some light on the startup journey, we're sharing stories and insights from some of our TAQADAM Startup Accelerator founders and program mentors.
When was the last time you really thought about an airport runway or a roadside lamppost? Probably never. However, it's likely that at some point your flight has been delayed by piece of debris on an airport runway. In fact, foreign object debris (FOD) inspection closes the average runway up to four times a day.
This is where startups have an advantage: they seek to innovate many of the products and services that we overlook in our day-to-day. And that's exactly what co-founders Tariq Nasraldeen and Sariah Al-jefri aim to do with Firnas Aero. Using drone technology they are significantly cutting down the time and resources required to inspect and maintain lampposts and runways.
Drone-as-a-Service (DaaS)
Firnas Aero is a startup that provides Drone-as-a-Service (DaaS), which involves using drones to perform inspection services for industrial complexes. Although the company specializes in airport inspections, its service can also be used to inspect security parameters, railways, roads, and farms.
"In 2015, drones were still new so I thought it would be a very good idea to fly the drone over the runway to take pictures and tell me where the objects are so I can go pick them up instead of aimlessly looking around," Nasraldeen, a former commercial pilot and airport executive, explains. "It doesn't need to rely on the human element," Nasraldeen says. "So instead of looking at 5000 pictures, the software does most of the work and detects where the objects are."
The startup was founded in 2018, with an initial idea to do FOD inspection for airports, which is any kind of loose items that might be accidentally dropped on the airport runway. "When I worked in Jeddah Airport, I used to see how they closed the runway for a long time to look for debris," Nasraldeen says. "If somebody wants to inspect the lamppost on a road or highway, you have to close down that specific area. Then you need to get a crane, get people on it, go up to identify the issue, go back down to get the right tools, and then back up to fix it," Nasraldeen explains. "It takes a very long time just to inspect one part of a runway or a single lamppost."
That's where Firnas Aero's Drone-as-a-Service comes in. By combining the agility of the drone itself with the cameras, the sensors, and the software, they can offer clients a turn-key solution. In other words, they'll diagnose the problem and provide a report along with recommendations for how to solve the problem. "With the drone, you can fly out and take very high-resolution pictures or thermal images to give a diagnosis of let's say 50 or 100 lampposts," Nasraldeen explains. "So you don't need to check each one," he continues, "You'll only go to the ones that have the problem and you'll already know exactly what the problem is when you go to fix it, so this will save a lot of time."
The original idea evolved to include runways as the team added AI computer vision which can automatically analyze thousands of images and pinpoint the exact location of the debris.
Firnas Aero is currently the only Saudi company that specializes in drone inspection, which gives them the first-mover advantage. That advantage, combined with the team's collective knowledge of aviation regulations and business strategy, makes for a competitive market opportunity.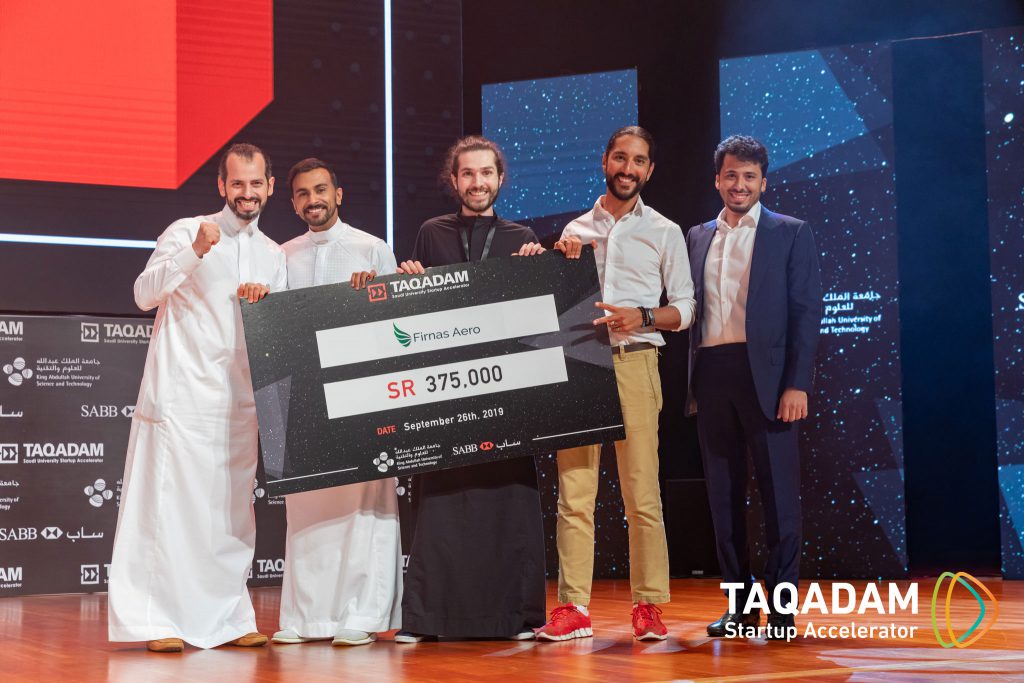 Firnas Aero's TAQADAM Accelerator Experience
Both Nasraldeen and Al-jefri are close friends but they are also polar opposites. "I think it's actually very healthy to have a person who thinks differently from you when you want to start a business," Nasraldeen says. "If everyone thinks the same way then you'll not add much to each other as a team."
Nasraldeen admits that he was "a little bit skeptical in the beginning as to whether it would be worth the effort or time. But Sariah encouraged me to apply and be part of this program."
Both cofounders were impressed with their experience as part of the TAQADAM Accelerator. "It was very beneficial because they offer a training workshop and then you have one month to go and implement it and see how it fits your organization," Nasraldeen explained. "Each month was a different theme that helps in building the startup."
Not only did the co-founders enjoy their time with the TAQADAM Accelerator, but they also managed to secure funding for their startup.
"We qualified to go through to the finals and I was surprised that we won," says Nasraldeen. "We were the first winners and it was a very good boost for us."
Although Firnas Aero could easily find uses for their new funding pool, it's not the money that made the biggest difference to Nasraldeen. According to him, winning gives you an indication that your idea is worth something and that you should work on it.
"Also, the networking, the mentors, and the other entrepreneurs we met during the nine months enabled us to see how different people think," he continues. "And along the way you adjust your own thinking and idea and it grows and evolves."
Overall, TAQADAM was a very positive experience for the co-founders. "I would highly recommend it for anyone who has an idea because if you think an idea is important to you then you should give it a try and make the effort and see how far it can go," Nasraldeen concludes.
What the Future Looks Like for Firnas Aero
The startup has been actively developing and expanding their services since graduating from TAQADAM Accelerator last year. "After the TAQADAM Accelerator, I left my fulltime job so I was able to focus," Nasraldeen tells us. "In addition, the amount we got as a grant from winning really helped us move in the right direction."
He stresses the importance of having a plan for what to do with any funding you receive to help grow your startup. Firnas Aero had has a clear plan to use the seed money to expand their business. The company is still looking for new recruits and investors, but everything is headed in the right direction.
"We're in negotiations with a couple of clients and confident that we'll sign with them in the very near future," Nasraldeen says as he smiles.
---
Learn about TAQADAM Startup Accelerator Program
Discover the KAUST Research and Technology Park
Apply for venture funding from the KAUST Innovation Fund