How universities contribute to innovation ecosystems
August 17 12:00 PM

-

1:00 PM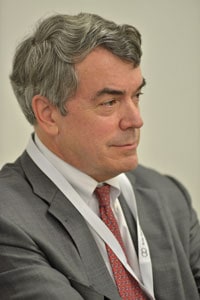 Talk by Prof. Bruce W. Ferguson
Head of the Center for Innovation and Entrepreneurship at the Masdar Institute of Science and Technology in Abu Dhabi
Companies created by Stanford and MIT faculty and alumni report annual revenues on the order of five trillion U.S. dollars. Modern research universities play a key role in generating long-term economic results and contributing to innovation ecosystems. They generate intellectual capital in the form of research, papers and patents, as well as human capital, as represented by faculty and alumni.
Join us to take part in this exciting discussion on how universities can strengthen their capacity for innovation. On Monday, August 17, Ferguson will discuss the factors that should be considered in engineering an optimal innovation ecosystem of stakeholders, resources and rules to accelerate university-based innovation.
About Professor Bruce W. Ferguson
Ferguson is head of the Center for Innovation and Entrepreneurship at the Masdar Institute of Science and Technology in Abu Dhabi, UAE. The Masdar Institute is a graduate research university developing new renewable energy sources and other sustainable technologies in collaboration with MIT. Ferguson's research and teaching interests include entrepreneurship, technology management and the "innovation ecosystem," which fosters creation of new products and services.
Ferguson is a co-founder and former COO of Orbital Sciences Corporation, now Orbital ATK, Inc. He is a co-founder and former CEO of Edenspace Systems Corporation and a former fellow at the George Washington University Center for International Science and Technology Policy. He is vice chairman of the Carnegie Institution for Science, former vice chairman of the Kansas State University Research Foundation and has been an angel investor in thirteen technology companies. He received his Juris Doctor, Master of Business Administration, Master of Education and Bachelor of Arts degrees from Harvard University.
Networking and light lunch will start at 11:30 AM
* A KAUST ID or official visitor pass is required to attend this event. If you are a visitor, register as "Non-KAUST member" then contact entrepreneurship@kaust.edu.sa to arrange for your access to campus.