Eight startups, mentored by the Entrepreneurship Center and Innovation Fund, competed for $80,000 USD in prizes at KAUST Innovation's Startup Accelerator Showcase on March 10, 2016.
Each team presented their company pitch and were judged by a panel of judges that included Innovation Fund Manager Nicola Bettio, Investment Manager Tamer Osman, Investment Manager Samer Samman and Chief Investment Manager Moustafa Magar from Saudi Aramco's Entrepreneurship Center.
Best in Show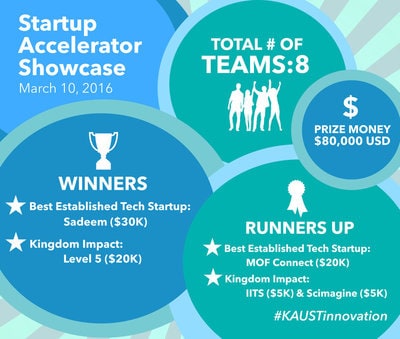 There were two award categories: Kingdom Impact and Best Established Technology Startup.
In the Kingdom Impact category, first place and $20,000 in prize money were awarded to Level 5, a company that provides dust protection and solar panel cleaning devices. Integrated IT Solutions, with its innovative healthcare platform, analytics and record management system, shared second place with Scimagine, a provider of exclusive scientific stock images and digital content.
In the Best Established Technology Startup, MOF Connect were runners up and won $20,000 with their advanced materials and processes solutions for the energy, oil and gas and chemical sectors.
First place and $30,000 were given to Sadeem, a company that has developed a wireless sensor network that is the world's first solar-powered urban flood and traffic monitoring system.
This system is not dependent on existing power grids or 3G systems, which means it can function normally in emergency situations when power might not be available. One of its main advantages is that it can be easily integrated into a city's existing IT systems and software.
"It is great to be recognized at this Accelerator Showcase. We look forward to providing urban and city planning officials with an affordable eye to their city, so they can see traffic and flood conditions in real time and save both lives and resources," said Mustafa Mousa, one of the founders of Sadeem.
Sadeem attended the Entrepreneurship Center's Hikma IP-based Startup Accelerator.