As you walk into KAUST's Innovation Cluster, there is a plaque that gives me inspiration every time I see it.
It reads 'Patience, Persistence, Perseverance.'
The quote is advice to KAUST pioneers back in 2010 from His Excellency Ali I. Naimi, Chairman of KAUST's Board of Trustees and Saudi Arabia's Minister of Petroleum and Mineral Resources.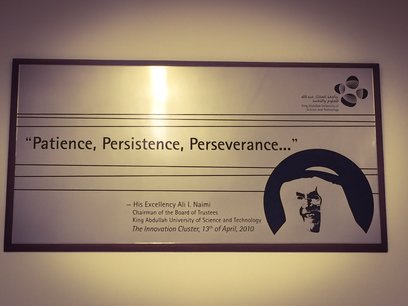 It defines innovation and inspires us to be patient and do better.
These words of wisdom recognize that developing innovation, creating a culture of collaboration and making a positive difference in the world does not happen overnight. It requires hard work, community building and long-term efforts.
There will be missteps along the way but it is about recovering quickly, learning from these mistakes and moving onward and upward. It is not about prima donnas or self-promotion but rather about strengthening teamwork and having creative people working in unison and learning from one another.
If these characteristics are adopted by whole communities and ecosystems, anything is possible.
In my previous position, I worked as the Executive Director of UVA Innovation located in Charlottesville, Virginia. Working there reminded me that innovation is everywhere and new approaches can be found from Silicon Valley to small-town Virginia to the deserts of Saudi Arabia to the Amazon rainforest.
Between 2010 and 2015, venture funding in Charlottesville jumped from $250,000 to $27.7 million and the National Venture Capital Association rated it as the fastest-growing venture capital ecosystem in the United States.
UVA was the driving force behind this growth with its ecosystem promoting progressive licensing strategies, an entrepreneur-in-residence program, effective proof-of-concept funding and a UVA Seed Fund.
In a region where the venture capital scene is still emerging, KAUST's innovation ecosystem has also broken new ground in a relatively short period of time.
Since 2009, KAUST has started to develop startups with grant-based seed funding. That has now evolved into the KAUST Innovation Fund and Beacon Fund, which aims to grow an innovation and technology community and to attract international investors and VCs to the emerging Saudi technology ecosystem.