Membership to KICP means access to a research community that can impact your organization's future.
We actively partner with businesses and government entities to provide them access to the University's research and technology, faculty and student talent, facilities and training, as well as seminars and other major events.
The KAUST Innovation Collaboration Program offers: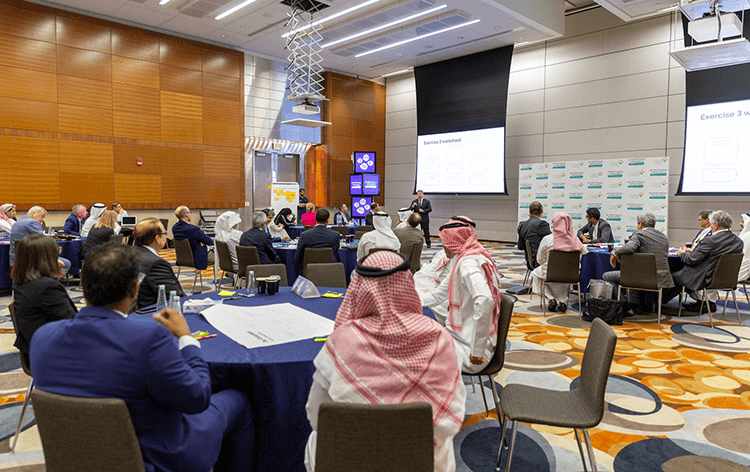 KICP Membership Categories
Membership in the KICP comprises two categories
Strategic Partner
Honorary Member
The strategic partnership is for industry, and the honorary membership is available only to relevant Saudi government and quasi-government agencies. Extending KICP Honorary membership to these agencies depends largely on their engagement level with KAUST, their alignment with KAUST's economic development mission, and/or on industry members' recommendations.
Companies interested in joining KICP are expected to commit to a long-term relationship so that both KAUST and KICP partners have the opportunity to benefit from this partnership fully. Annual membership fees are used to deliver various benefits and services to KICP members, support KICP initiatives and KAUST-wide initiatives.
Additional engagement opportunities
The KAUST Center Industry Affiliates Program (CIAP) is membership-based, focusing on a designated research theme. Companies may choose to join the KICP or CIAP, or both—the two programs offer complementary but distinct benefits.
The KICP is a higher-level, university-wide program focused on industry alignment, business development, networking and KAUST's research breadth. CIAPs are linked to a specific Research Center at KAUST, allowing for in-depth exposure into a designated research theme. Each CIAP is designed to integrate industry members closely with the Center's research mission and agenda.
Companies interested in working closely with a certain Research Center may join the relevant CIAP. Members are carefully selected to represent a collection of backgrounds and expertise.