For the second year in a row, KAUST has partnered with Misk Foundation to present the 2020 Entrepreneurship World Cup (EWC). The world's largest pitch competition, over 170,000 startups applied from around the world, with 15,000 semifinalists competing to make it through to the global final.
This year, finalists have been whittled down to 100 startups who took part in the EWC KAUST Global Finalist bootcamp, held remotely last month on September 27-28, 2020. The virtual EWC Global Final takes place on October 20, 2020, and gives finalists the chance to vie for prizes totaling $1 million USD. Winners will also have an opportunity to garner additional investment opportunities and another $75 million USD of in-kind support.
The #EWC2020 global finals are nearly here ????Get ready to watch the 100 startups pitch cutting-edge ideas from around the world, including 4 #KAUST finalists @EdamaSolutions, #TalonDust, #PergerineGenomics & @Miqyastech

Register & reserve your spot: https://t.co/XpglMfHbVs pic.twitter.com/cEYJmftkYZ

— KAUST Innovation (@KAUSTinnovation) October 13, 2020
Empowering Saudi Arabian startups
KAUST and Misk Foundation have a shared objective of attracting cutting-edge technologies across all industries and top talent to Saudi Arabia, which, in turn, empowers and supports Saudi-based startups.
By nurturing homegrown and international startups, the partners are looking to build a global funnel that highlights Saudi Arabia as a hub for entrepreneurial innovation in a future-forward economy.
KAUST continues to play an essential role in growing Saudi Arabia's budding entrepreneurship ecosystem by supporting early-stage founders who serve as key drivers of economic growth. The University has graduated over 250 startups from its training programs while also backing 60 startups through its venture capital investment arm – KAUST Innovation Fund.
Together with Misk Foundation, which is devoted to cultivating and encouraging learning and leadership in youth for a better future, the EWC supports KAUST's shared mission of empowering young people to thrive in the knowledge economy.
The KAUST Global Finalist Bootcamp featured expert speakers delivering intensive seminars, essential workshops hosted by world-class mentors, pitch sessions, industry meetings and an overview of market opportunities, and networking. This has provided the finalists with the chance to hone their skills as they fine-tune their pitches.
Four of the startups set to pitch at the Global Finals are graduates of KAUST program TAQADAM Startup Accelerator. These startups are Miqyas, Peregrine Genomics, Edama Organic Solutions and Talon Dust Control.
Talon Dust Control
Talon Dust Control is a startup based at KAUST that graduated from the 2019 TAQADAM cohort. The team went on to win first place at the EWC Saudi National semifinals in September 2020. The startup has developed an environmentally friendly, liquid spray-on solution that prevents dust lift-off — a valuable tool for arid and dusty regions such as the Middle East.
Talon Dust Control, based in King Abdullah University of Science and Technology (@KAUST_News), has introduced an environmentally friendly liquid spray-on solution that prevents dust lift-off from land. #KAUST https://t.co/pxvQnWTVUX pic.twitter.com/N3f6S11jh7

— Arab News (@arabnews) March 2, 2020
The product, manufactured locally, is both non-hazardous and inexpensive. Their dust control and soil stabilization solutions reduce water use and the need for labor-intensive work. Talon Dust is currently marketing three versions of their product — one primarily used in landscaping, a second for renewable energy and solar panels and lastly, one in open fields. All products dry within two hours and last for up to two years.
A wide range of industries can benefit from this innovation, including aviation, government and military, construction, solar energy, oil and gas and even outdoor entertainment. With a win at EWC, Talon Dust Control will be on their way to becoming a global exporter.
Edama Organic Solutions
Saudi startup Edama Organic Solutions graduated from the 2018 TAQADAM cohort and took second place at the EWC Saudi National semifinals in September 2020. The startup aims to solve sustainability challenges by transforming organic waste, such as food and vegetation from landscaping or farming, into rich soil that improves desert agriculture, helps to increase yields and reduces water consumption. Edama produces both soil-improving products and offers waste recycling services by removing waste from municipalities and communities.
Sandy soils have low fertility and low water holding capacity making desert agriculture extremely inefficient. We know we can do better. That's why our vision is to revitalise local soils by using all the organic waste we can. #watersecurity #foodsecurity #circulareconomy pic.twitter.com/lqhgUowbgD

— EdamaSolutions (@EdamaSolutions) September 14, 2020
Edama received seed investment from the KAUST Innovation Fund and is building a pilot-scale composting facility on the KAUST campus. Following their initial success, Edama has a goal of turning 65 per cent of the municipal solid waste in Saudi Arabia into a usable resource — something a win at EWC could help them achieve.
Peregrine Genomics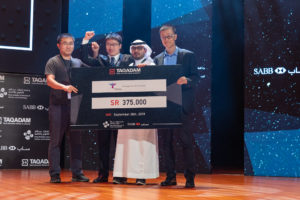 Peregrine Genomics at TAQADAM Bootcamp Cohort 3
Peregrine Genomics is a Saudi-based deep tech startup at KAUST that graduated from the 2018 TAQDAM cohort and placed fifth in the EWC Saudi National semifinals. The startup provides accurate next-generation genomic diagnoses in half the time and at a much lower cost than current technologies.
The company is shaping the future of health by leveraging big data and advanced analytics, such as artificial intelligence, to deliver accurate and effective personalized healthcare. In line with Vision 2030, a win at the EWC for Peregrine Genomics will accelerate the development of personalized medicine in Saudi Arabia.
Miqyas
Miqyas is a Saudi startup that graduated from the 2019 TAQADAM cohort and placed sixth at the EWC Saudi National semifinals. The startup looks to enhance the online clothing shopping experience by providing tools for better sizing.
With the rise of the fashion e-commerce market, custom-made garment stores have been unable to take advantage of the fast-growth. At the same time, retailers of ready-made clothes pay the price of returned items. Miqyas' solution for this consists of two products: SizeIt, an add-on for e-commerce platforms that removes the inaccuracy of size charts, and CustomFit, an app that helps customers order their perfect size by just uploading two photos to the app.
Hello online shoppers! #TAQADAM startup @Miqyastech is using computer vision to make perfect-fit #abayas and #thobes tailored to customers' measurements. #EWC2020 #SABB pic.twitter.com/TFWd66H30p

— KAUST Innovation (@KAUSTinnovation) September 7, 2020
The software uses computer vision and machine learning to generate an accurate 3D model of the body, which then translates to precise measurements. In fact, the accuracy of their products is over 98 percent. A win at the EWC could widen their customer base as e-commerce continues its meteoric rise in popularity — especially in the time of social distancing.
The TAQADAM Startup Accelerator, which supported each of these four startups, launched in 2016 in partnership with the Saudi British Bank and has successfully graduated dozens of other startups, as well as awarding more than 14 million SAR in funding. In line with KAUST's objectives of supporting new ventures, the program focuses on preparing new entrepreneurs for the challenges ahead, offering over six months of business training and mentorship in various industries, including e-commerce, healthcare and technology.
The winners of this year's EWC will have a partner in KAUST, helping them navigate the different challenges experienced as a growing startup company. An enabler of national impact initiatives and an expert in entrepreneurship training, and startup development, KAUST uses its resources to advance economic development and technological innovation. The University will continue to support pioneering technology and industry with its future-oriented collaborations.
Follow the results of the EWC global finals on KAUST Innovation's Twitter and LinkedIn.