TAQADAM Startup Accelerator
TAQADAM is the only multi-university startup accelerator program in the Middle East.  It is designed to help participants execute their business models, deliver valuable products or services, and create local jobs.  It is delivered by KAUST to the kingdom with sponsorship from SABB bank.
The program equips entrepreneurs with the tools and support required to successfully launch a technology-based company through mentoring, marketing, ideation, fundraising and product design. Accepted startup teams receive up to $20,000 in grant funding and access to the co-working space at KAUST.
6-month program followed by one- to-one post-accelerator support during the up to six months incubation period.
Open to committed startup teams from up to six universities in the Western Region including KAUST.
Up to 30 but potentially on average 15 startup teams per cohort (selected on quality, viability).
Managed by the KAUST Entrepreneurship Center, with support from local and international mentors, on behalf of the sponsor SABB.
Innovation and startup training: value proposition, business model development, design thinking, investor pitching.
Pre-seed funding provided to all teams based on milestones, and seed funding available for selected teams.
Product testing and prototyping support where possible.
Exposure to KAUST's existing network of partners, potential clients and investors including the KAUST Innovation Fund.
TAQADAM Startup Accelerator Next Application Round – Oct/Nov 2018!
TAQADAM is a highly competitive accelerator program.  In the previous cohort, over 600 applications were received, of which 168 teams advanced to the second round of judging.  During the second round, teams, from universities across Saudi Arabia, complete a one-month pre-accelerator program leading to a business pitch event at KAUST.  From that judged event, thirty startup teams are selected, to participate in the final phase of the TAQADAM accelerator program and are also awarded $20,000 each in seed grant funding.
Finalist teams then spend the next five months participating in the intensive startup accelerator program. The mentor-led program encompasses training to help launch and scale their new ventures, group boot camps and access to office space at the KAUST Entrepreneurship Center.  Teams receive one-on-one sessions with mentors in their field, some of the best entrepreneurial experts from around the world from the academic, research and private sectors. The most promising of these startups are eligible for additional seed funding from SABB and the KAUST Innovation Fund. The program ends with a Startup Showcase that awards $60,000 in cash prizes!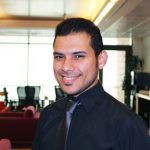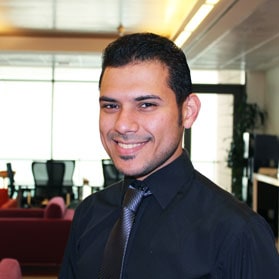 Abdulrahman AlJiffry, New Ventures Associate, KAUST Entrepreneurship Center
Abdulrahman is a founding member of the King Abdullah University for Science & Technology (KAUST) Entrepreneurship Center; Abdulrahman has played a pivotal role in KAUST's Innovation and Economic Development activities for the past five years.
Currently Abdulrahman manages the center's Innovation Academy and corporate innovation programs, a selection of customized programs designed to foster innovation and new thinking in large organizations. Abdulrahman has worked with passionate and creative teams from Saudi ARAMCO, SABIC and Islamic Development Bank (IDB) among many others.
He has developed training and mentorship programs for a variety of major events and startup conferences in the Kingdom including MITF (Saudi Arabia) and Arabnet. Work has included developing the program for the KAUST STEAM Innovation Challenge in collaboration with organizations such as Islamic Development Bank and Dow Chemical.
Abdulrahman has played a pivotal role in developing and managing the TAQADAM University Entrepreneur Accelerator, which is funded by Saudi British Bank (SABB) and has supported twenty-eight startup teams with a variety of technologies including Internet of Things, New Materials, Software, Internet and Biotechnology from 13 different Saudi universities.
Abdulrahman also supports a diverse portfolio of KAUST early technology start-ups ranging from clean tech to education to social enterprise. During his tenure, KAUST has been the recipient of numerous high profile awards, such as being named the best higher education institution supporting entrepreneurship at the Global Entrepreneurship Summit (GES) and recognized by University Business Incubators Index (UBI) as a high potential incubator program. Arwa Shafi, New Ventures Associate, KAUST Entrepreneurship Center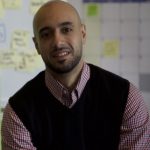 Nawaf Algain, Development Relations Manager, KAUST
As part of the KAUST management team, Nawaf brings a wealth of experience in empowering many of KAUST's development initiatives, in addition to his role with KAUST's Entrepreneurship Center. He achieves this through structuring key relationships with business community at large. He is involved in KAUST's ambitious start-up accelerator programs TAQADAM and Takamol 9/10ths.
With over 15 years of exceptional track record in both public and private sectors, he has been involved in driving business excellence, spearheading planned initiatives, as well as top-tier relationship management across diverse sectors.
Nawaf has had several leadership roles after starting his career in investment banking, managing several key portfolios valued over 1.5bil SAR as well as managing key investor relationships. He later joined the Saudi General Investment Authority (SAGIA) and was one of the founding members in the development of Economic Cities Authority.
He later joined General Electric (GE) heading and managing their indirect offset program for Saudi, UAE and Bahrain, with a strategic focus and aim to invest tech transfer and knowledge based industries. Combining his core competencies and entrepreneurial drive he has also founded various start-ups in areas of technology, real estate, franchising, food and hospitality. His last start up was Beemkan, a crowd-funding platform for creative industries in the GCC.
The 2018 cohort is currently in session. Applications for the 2019 cohort will open in October 2018.
The competition is only open to current students, postdocs, staff, researchers and faculty from Saudi Arabian universities.
To be eligible to join and stay on the accelerator programs, teams or at least one of the team participants must be legally based in the Kingdom of Saudi Arabia during the accelerator and be able to attend required accelerator activities. The accelerator process is generally 4-6 months, which could involve startup team members to engage in day, evening and weekend events and bootcamps.
All applicants that are utilizing intellectual property need to have the correct written permission to commercialize the technologies in their startup idea from their university and/or technology transfer office.
If a startup already legally exists, it must not have received more than 500,000 SAR in external funding and have been launched within the last 12 months.
Accommodations not provided.
Questions?
Contact: ec@kaust.edu.sa
Startups who participated in TAQADAM have received numerous impressive accolades over the past year. For example, KAUST IP-based startups Sadeem and SONATE competed at the Asia-Pacific competition SLUSH Singapore in September 2016, with Sadeem making the final forty-five startups and SONATE the final six, out of 750 startups that originally applied for the competition. In addition, KAUST IP-based startups Sadeem, NOMADD and Visual Experience featured in the top 20 of Forbes Middle East's list of The 50 Most Promising Saudi Startups.
Learn more about our most recent TAQADAM graduates here!
Want to Join Our Next Cohort?
Mark your calendars! Applications for the 2019 cohort will open in October 2018. Click below to request an email alert for the next TAQADAM cohort application session.