Webinar: Industry Meet and Greet: Saline Water Conversion Corporation (SWCC)
October 14 1:00 PM

-

4:00 PM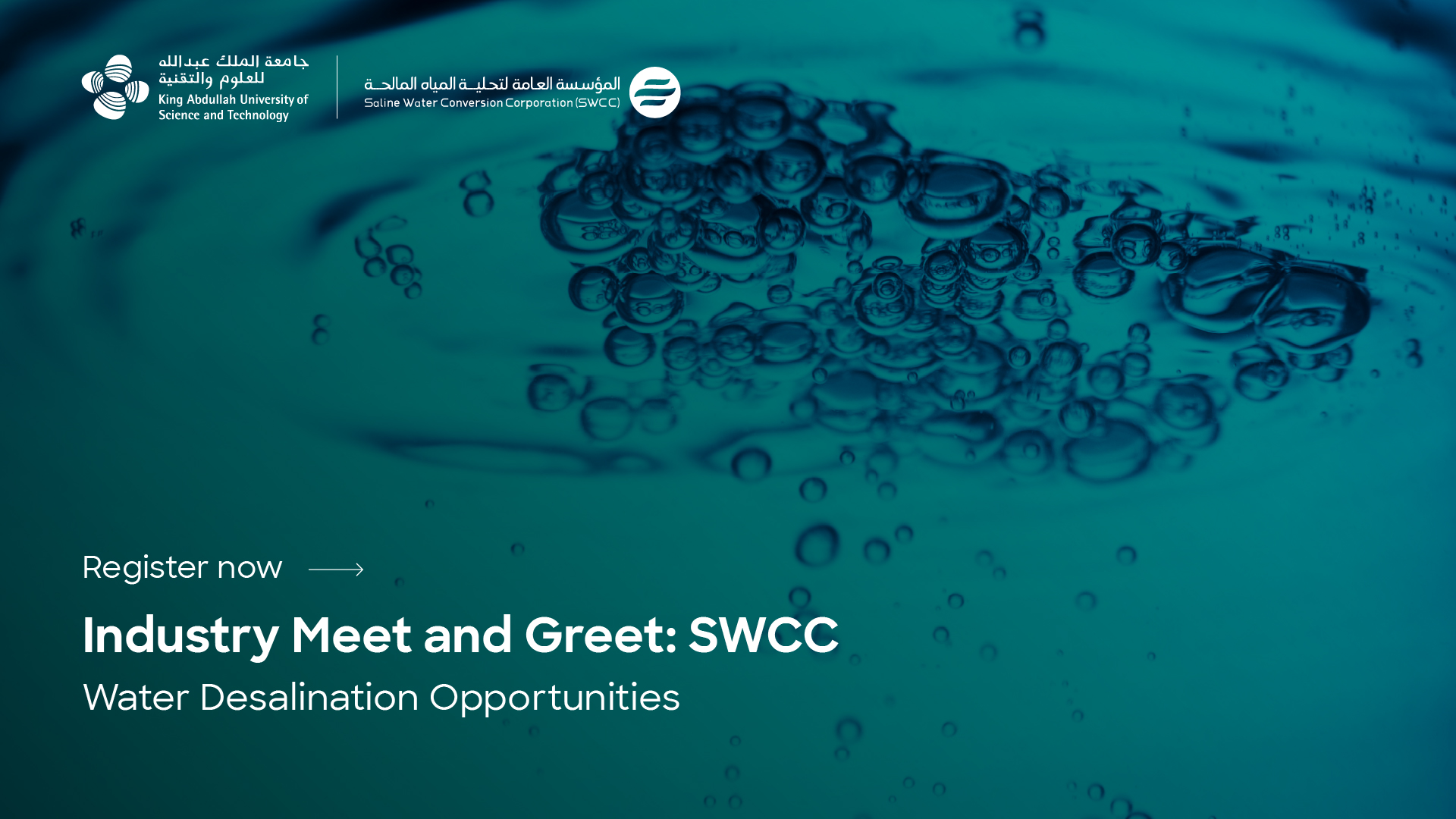 Join us virtually for a KAUST Innovation Industry Meet and Greet with Saline Water Conversion Corporation (SWCC). SWCC is responsible for the desalination of seawater and supplying vast regions throughout the Kingdom with desalinated water. Learn more about challenges facing SWCC and the research collaboration opportunities with the KAUST Water Desalination and Reuse Center.
When: October 14, 2021, 1:00 to 4:00 p.m.
Where: Online
Registration: Webinar registration is required: REGISTER HERE
Note that this event is open to KAUST Community members only to attend in person.
Agenda:
1 – 2:30pm: Presentations by SWCC and KAUST
Welcome, by Dr. Kevin Cullen, KAUST VP Innovation
SWCC current & future challenges and opportunities, by Dr. Mohammed Al Namazi, Deputy Executive Director of Desalination Technologies Research Institute, SWCC
Maximizing renewable energy use in desalination, by Eng. Friedrich Alt, Senior Expert, SWCC
Coupling Solar CSP (Parabolic trough) with MED-TVC plant, by Eng. Ahmed Al-Ghamdi, chemical specialist, SWCC
Digital plant operation via artificial intelligence, by Mr. Essam Al bishi, AI Unit Head, SWCC
2:30 – 2:45: Break
2:45 – 3:45: Panel discussion: SWCC Water Research Collaborations and AI Digital Transformation Challenges. Moderated by Mr. Paul Buijs, Industry Liaison Officer, KAUST Water Desalination & Reuse Center
Panelists:
Noreddine Ghaffour, Professor, Environmental Science and Engineering
Luca Fortunato, Research Scientist, Water Desalination & Reuse Center
Friedrich Alt, Senior Expert, DTRI, SWCC
Essam Al bishi, AI Unit Head, SWCC
Discussion areas:
Renewable energy and desalination
Membrane materials and fouling prevention
Pre-treatment and post treatment
Digital plant operations
3:45 – 4:00pm: Presentation of KAUST's water technologies by
Hadi Zulfiqar, Technology Deployment Specialist, Technology Transfer