Misk Global Forum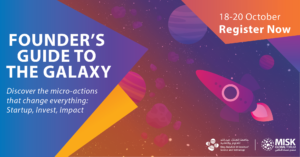 Misk Global Forum (MGF) is the flagship global platform of the Misk Foundation, a non-profit philanthropic foundation established by HRH Crown Prince Mohammed bin Salman to discover, develop and empower youth to become active participants in the knowledge economy.
The Entrepreneurship World Cup, which comes part of the MGF, is one of the world's largest and most diverse pitch competitions and support programs for the next generation of entrepreneurs – with over 3,000 attendees and 100 startups at all stages from more than 200 countries competing for $1,000,000 in cash prizes.
KAUST partners with MGF, the world's largest youth forum, and is delivering its new workshop: The Founder's Guide to the Galaxy. Registered attendees can sign up to the workshop and get to explore and learn how to impact and build new habits in their daily lives.