Where Science and Industry Engage: Knowledge Exchange in Research Ecosystem
November 23 11:30 AM

-

1:00 PM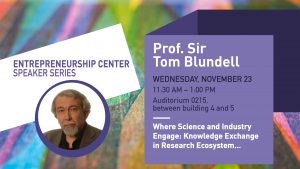 The Entrepreneurship Center is proud to welcome Tom Blundell, professor emeritus from the Department of Biochemistry, University of Cambridge. He was a member of Dorothy Hodgkin's team that in 1969 solved the first structure of the protein hormone insulin. He has developed software for protein modeling and understanding the effects of mutations on protein function, leading to new approaches to structure-guided and fragment-based drug discovery. In 1999 he co-founded the oncology company Astex Therapeutics.
Blundell will be sharing his experience of basic research in academia and its translation into a small company. He will also describe the exciting developments in the platform technology of fragment-based drug discovery that eventually led to the sale of Astex Pharmaceuticals to Otsuka for $886 million.
Register here to learn more about Tom Blundell's journey to creating a successful pharmaceutical company.