The 13th Annual GPCA Forum
Event Navigation
Join us at the KAUST booth #D65 on November 26 – 28, 2018 for the GPCA Forum 2018 in Dubai.
KAUST is a member of GPCA and serves as a  board member of the R&D Innovation Committee of the conference. We look forward to meeting you there to discuss how KAUST can help serve your innovation needs within Saudi Arabia.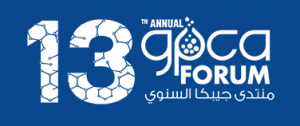 About KAUST

KAUST is an institution of enterprise and a gateway for industry looking to establish a foothold in Saudi Arabia.
We believe an innovation-focused mindset benefits everyone. Whether it is through sponsored research agreements or utilizing our laboratories, office spaces, or pilot testing and scale-up facilities, KAUST can help businesses problem solve and accomplish their goals for growth in the region.
For more information about industry partnerships, click here.