KAUST was conceived with noble goals in mind.
Top-quality education and world-leading research define us, but they are only part of our vision. We also want to leave a legacy: creating an innovation ecosystem in the Middle East and transforming the Kingdom of Saudi Arabia into a knowledge-based economy.
We are fulfilling this mission by:
Commercializing and protecting KAUST's intellectual property, leading to licenses and new products and companies in the Kingdom
Enabling a strong culture and mindset of entrepreneurship and generating new technology and knowledge-based businesses
Attracting industry to KAUST to collaborate on research, employ KAUST graduates and participate in bringing new technology to the Kingdom
Creating a hub of innovation, research and technology development at our on-campus research park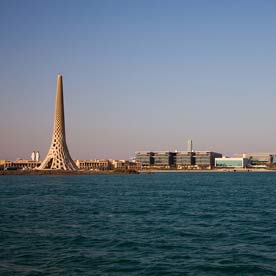 We connect with industry, inventors and entrepreneurs both on and off campus. Learn more about how KAUST can help you expand, innovate, learn and collaborate.